Conditions remain ripe for owners looking to sell their companies. Is the right buyer private equity, a strategic acquirer, or a searcher?
Appetite is strong for M&A transactions as the world emerges from the brakes of the Covid-19 pandemic. According to data provider Pitchbook, in the first half of 2021, 67% of all private equity deals in the U.S. were under $100 million in size. Business-to-business, IT, and healthcare were among the most active sectors, comprising almost 70% of activity.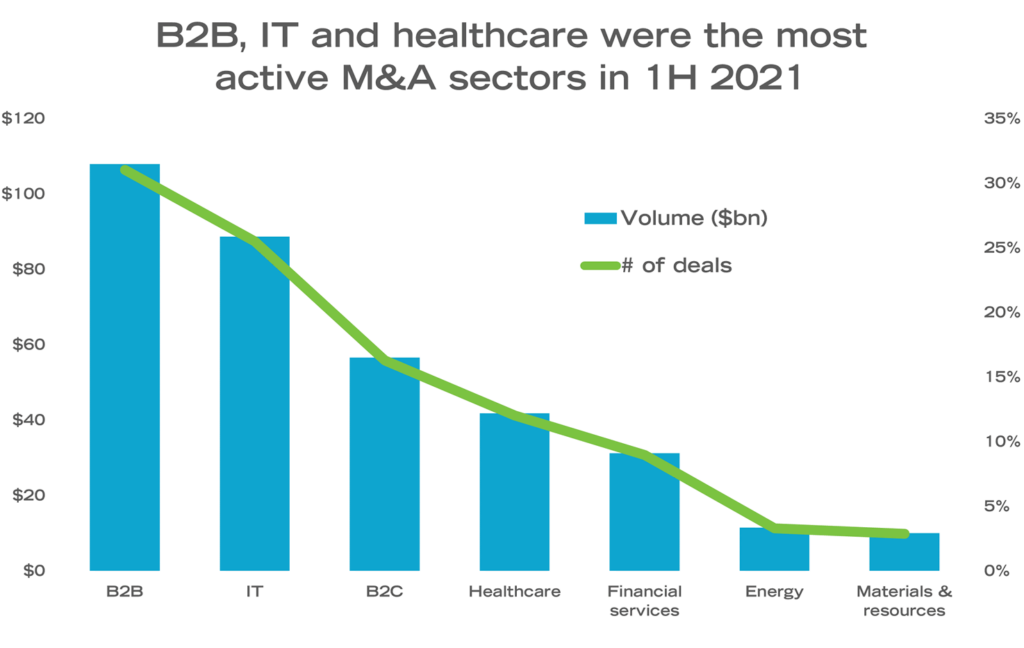 The pace shows little signs of slowing down. Industries most impacted by Covid-19 such as retail and restaurants are recovering and, in many cases, rebounding. A potential capital gains increase is spurring privately-owned businesses to sell several years earlier than expected. Low interest rates make the cost of financing attractive for buyers looking to acquisitions to grow and scale their businesses. Another major tailwind is the significant amount of private investment capital that has been raised over the past few years to invest in companies.
So who are these investors?
Unlike the public equity market's NYSE's opening bell and trading floors, the private capital market is funded by investors who look for diversification by pooling their capital to buy private assets. On the smaller end of this market, often referred to as the lower middle market, transactions that take place are typically under $100 million. There are three main types of investors that engage in M&A activity on this scale: private equity, strategic acquirers, and searchers.
Private Equity
Private equity firms focus on buying companies to achieve a financial return. Armed with capital raised from institutional investors and high-net-worth clients, they identify businesses with potential for growth and scale and, with their resources and acumen, help professionalize the company and increase efficiencies. They are financial professionals who buy and "hold" companies, often for five to seven years, before exiting the investment at a profit. Some private equity firms have a group of operators — former industry professionals who have run businesses and divisions — on hand to advise companies.
Identifying growth opportunities and driving strategic initiatives with growth capital are among the different ways private equity can grow a business. A private equity buyer may help a company organically enter new markets and/or grow in their home markets or make an add-on acquisition. Larger private equity buyers may be able to negotiate lower costs for overhead and healthcare, thus improve bottom lines.
Private equity retains existing ownership and keeps on senior management to manage the day-to-day operations of the company post-acquisition. Typically, it is assumed that current management will hold a percentage of equity (10% to 20%) in the company for an agreed upon period of time. This structure is called an "equity roll" and provides the owners with a second opportunity to participate in the growth of the company when the private equity firm triggers a second liquidity event.
For company owners, this means liquidity, new partners in growth, and diversifying assets.
Strategic Acquirers
Strategic acquirers are companies that operate in the same industry and are typically looking to make an acquisition that will give them a strategic market advantage, such as scale, geographic reach, operational efficiencies, sales, and marketing bench strength. Instead of growing that capability organically, the acquirer looks for synergies through a purchase to grow their business, so they tend to be invested in the company for the long haul.
In this type of acquisition, the company is typically integrated into the existing operations of the acquirer's company. Existing ownership and management may stay on in the combined company in some capacity in the short term or exit the business entirely after closing. For owners looking for an exit strategy or liquidity event, this type of acquirer may be the right one for you.
Searchers
A searcher or a search fund is typically an entrepreneur or a small group of entrepreneurs who is focused on acquiring, managing, and growing a private company. Their sources of capital include self-financing or raising outside capital from a pool of investors. As a searcher looks to step in to operate a business, existing ownership does not remain involved in the daily operations after a transition period. Searchers can also look to exit the company at a profit after a number of years or remain with the company. Similar to strategic acquirers, searchers can provide an exit strategy or liquidity event for existing company owners.
To find out more about which buyer would be right for your company, contact Sharon Heaton at sharonheaton@sbliftoff.com or 703-258-6560.