LIFT OFF: 12 Things to Know Before Selling Your Business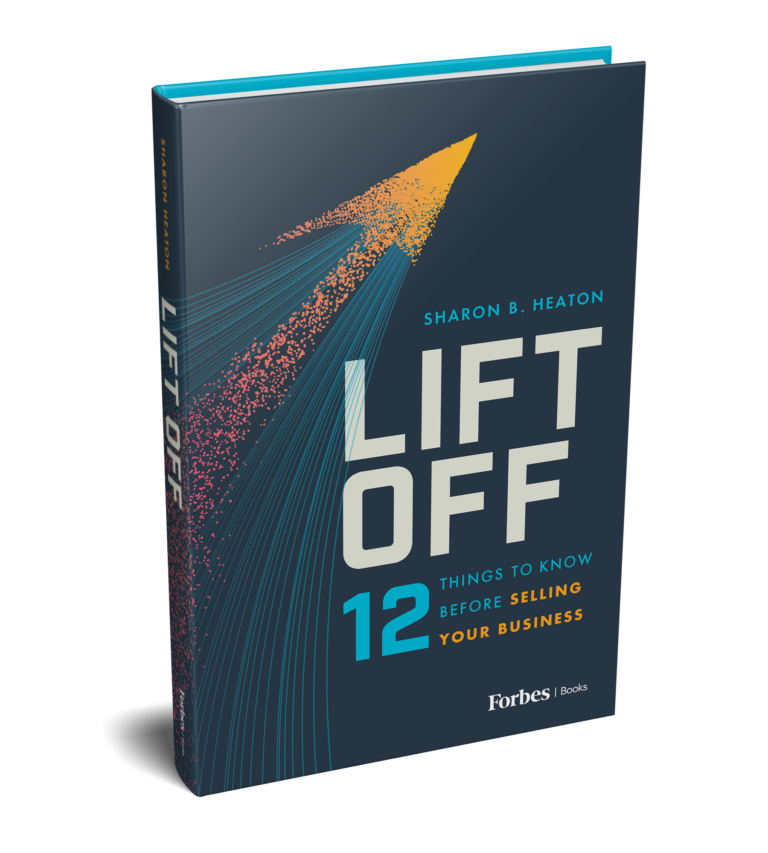 Should I sell my company? You've had this question in your mind for some time. Perhaps you've consulted business partners, your lawyer, or wealth advisor. Maybe someone offers to buy your company. How should you proceed? Is it a fair price? Where can you turn to for help on what is likely to be the most important financial transaction of your life? You need to get it right, but who can you trust?
Sharon Heaton has embarked on a national mission to educate business owners about how to sell their company. Distilling the top 12 lessons she has learned over years of practice, Heaton can help you understand how outsiders will value your company, how to protect your confidentiality, and – perhaps most important – how to prepare yourself both emotionally and financially for the sale of a lifetime.
Read the book that everyone is talking about!
"LIFT OFF answers the questions keeping middle market business owners up at night. A practical must read!"
– Doug Farren
National Center for the Middle Market
"LIFT OFF provides insight so you can sell your company and not lose your mind in the process."
– Scott Jensen
National Veteran Small Business Coalition
One of the Country's Leading Small-Business Advocates
CEO and Founder, sbLiftOff
With more than 30 years of M&A and banking experience as a lawyer, business executive, senior US Senate staff member and founder/owner of her own company, Sharon Heaton has an unshakable conviction about the enduring value that mid-market business owners bring to the economy. 
Heaton publishes in Harvard Business Review, Forbes, and Washington Business Journal. She was recently appointed to the Federal Investment Capital Advisory Committee, which helps America's 33-million small businesses to get access to investment capital.
Chapter 1
Facing Your Business Transition: What Is Ahead?
Chapter 2
What's the Secret to a Successful Deal?
Chapter 3
How Do I Maintain Confidentiality?
Chapter 4
Is My Company Sellable?
Chapter 5
How Do I Get Paid?
Chapter 6
How Does My Company Get Valued?
Chapter 7
Who Will Buy My Company?
Chapter 8
What Are the Stages of the Process?
Chapter 9
How Much Will This Cost?
Chapter 10
What Is Due Diligence?
Chapter 11
How Do I Time My Sale?
Chapter 12
Why Should I Hire an M&A Advisor?
Chapter 13
How Is GovCon Different?
Discover What it Takes to Sell Your Company and Lift Off to Your Next Adventure!