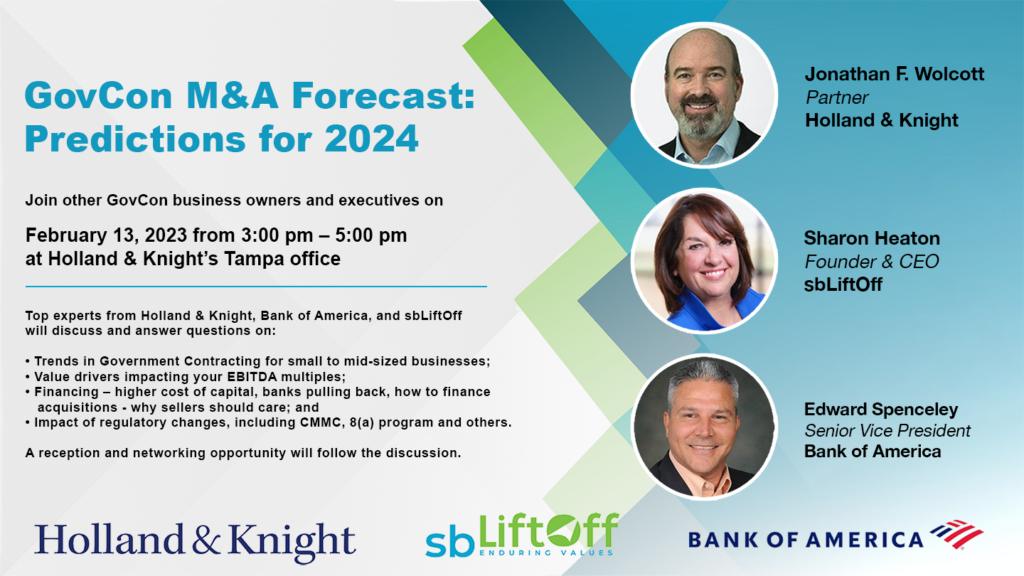 GovCon M&A Forecast: Predictions for 2024
There was a strong market for buying and selling GovCon companies in 2023, but what is in store for 2024?  If you own a company with revenues between $10M and $100M now is the time to think about what lies ahead in 2024 and beyond. 
February 13, 2023 from 3:00 pm – 5:00 pm at Holland & Knight's Tampa
What Will Happen?  GovCon M&A Fast Forward
Discussion on the future of government contracting and M&A including the implications of a new administration, changes in tax policy and government spending
Speakers:  Sharon Heaton, Founder/CEO, sbLiftOff 
Jonathan Wolcott, Partner, Holland & Knight
M&A Forecast: Groundhog Day 2021 – Long Winter or Bright
Skies Ahead
Explore why 2021 is a good time to sell your government contracting company.
Speakers: Sharon Heaton, Founder/CEO, sbLiftOff
Joseph Humphries, Head of Specialized Lending, Atlantic Union Bank
Dean Nordlinger, Partner, Blank Rome
M&A Success:  Find Your Happy Ever After
Discussion on how to achieve M&A success in 2021
Speakers:  Sharon Heaton, Founder/CEO, sbLiftOff
George Nemphos, Founding Partner, Nemphos Braue
Winning at GovCon:  What Will Make Your GovCon Company Valuable to Today's Buyers?
sbLiftOff, M&T Bank, and Sier Capital Partners discuss the rising interest in government contracting companies, the current M&A environment and the kinds of businesses generating the greatest investor interest
Speakers:  Sharon Heaton, Founder/CEO, sbLiftOff
Emily Zankman, Senior Business Banking Relationship Manager,
M&T Bank
Adam Altus, Managing Parner, Sier Capital Partners